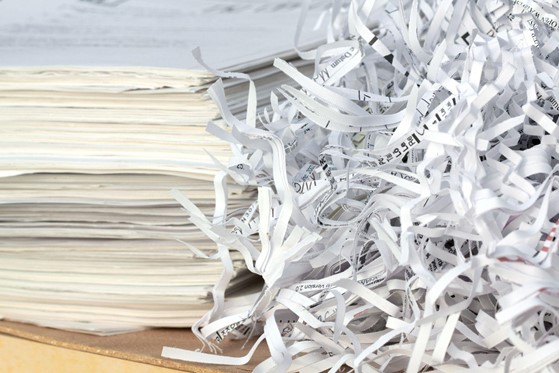 Nowadays, document shredding is an essential part of most businesses. When you run a business, you are constantly working with documents that have sensitive information on them. Protecting that information means that you are protecting your business and also your clients. All records produced by an organization in emails, memos, financial records, personal notes, and official communications contain sensitive information that has to be kept confidential. So what shredding service is best for you?
Mobile paper shredding is now one of the best ways to securely shred sensitive documents quickly, effectively, and at an affordable price. It protects your data by ensuring your sensitive information cannot be recovered, but it also offers more benefits. In this blog post, we will talk about what mobile shredding is, what all the advantages are, and the two main types of mobile paper shredding services.
What is Mobile Paper Shredding?
Mobile paper shredding is a service provided by a professional shredding company that offers to come to the location of your business or residence to provide a shredding service. These companies come in mobile shredding trucks with commercial shredders to shred all your documents right then and there at your location.
The Advantages to Using Mobile Paper Shredding
When you use a mobile paper shredding service, you get the advantage of protecting your sensitive information and a few others. Let's go through these advantages together.
Fast & Convenience
Mobile document destruction also offers several convenience factors. When you use this kind of service, it means that you don't have to worry about doing all the shredding yourself. All you need to do is point in the right direction of where your documents are, and the professionals handle the rest. You don't even have to leave the office or house if you don't want to.
Another advantage of mobile paper shredding is the speed with which documents can be shredded. This is particularly important when dealing with large amounts of sensitive information. If you utilize traditional paper shredding methods, it could take up to a week before all of your documents are destroyed.
Security
Protecting your confidential information is the main advantage of mobile paper shredding. When you use document shredding in general, you get the security of knowing that your documents are unrecoverable and won't be used for fraudulent purposes. When you use a mobile shredding service, you get extra security benefits, like because your documents are shredded right there at the location of your choosing, your documents never leave your sight until they have been fully shredded. Most mobile shredding trucks even have camera's inside so you can watch your papers being shredded.
Of course, another major advantage of mobile paper shredding is that they have highly trained workers available to handle any customer request. These professionals have extensive training in various forms of personal information destruction, including the proper disposal of sensitive medical records and financial information. It's therefore likely that your mobile shredding company already has highly trained individuals on staff.
Environmentally Friendly
The last advantage and one of the greatest benefits is that when you use a mobile shredding service, the shredding company will take all the shredded bits of paper and take them to a recycling facility to be made into other paper items. Making the service environmentally friendly.
Type of Mobile Paper Shredding
There are two main types of mobile shredding services, one-time shredding and scheduled shredding. Below we explain both types in more detail.
One-Time Shredding – A one-time shredding service, also known as purge shredding, is when a company requires just one appointment for document shredding. This type of shredding service is usually done annually but can be done as often as you need.
Scheduled Shredding – If you require document shredding a lot more frequently, then scheduled shredding service is what you need. It is a service that is done regularly based on the number of documents you produce. It can be done bi-weekly, monthly, or bi-monthly.
A Mobile Paper Shredding service will offer you a complete secure document shredding service for all of these reasons. In fact, many businesses utilize such a service to protect their most confidential documents.
If you are ready to book your mobile shredding service, contact FileShred today.