Shredding for Law Firms In Connecticut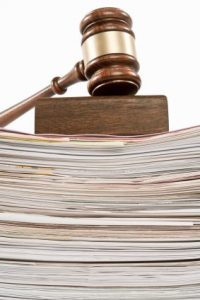 Every Connecticut law firm needs shredding services it's just a question of when and how often.  Whether you need a one-time purge or an ongoing service FileShred can help. Give us a call and we will help you choose the right service for your firm, give you a quote and schedule your appointment.
FileShred provides legal shredding services to the legal community that can be designed to meet the individual needs of each law firm. Information is an important asset for every law firm. Attorneys are held to a higher standard of care for the preservation and the eventual disposition of client files and information. When it has been determined that legal files can be disposed of, it is necessary for the legal documents to be shredded to protect the private information of clients.
Legal shredding services with FileShred ensure that the information about your firm and that of your clients is securely shredded. So whether your law firm has a one-time or ongoing document shredding need, FileShred offers the best legal shredding services for your firm.
One-Time Legal File Purges
For a one-time shredding need of those legal files that have accumulated over a number of years or you have finished are large cases and many of the documents are no longer needed then our one-time law document destruction service is for you. We provide these services only when you need it. With our next day shredding services, you can schedule the proper destruction of your files when you need it.
Ongoing Scheduled Document Destruction for Law Firms
Legal Shredding When your law firm needs to dispose of documents on a regular basis our Scheduled Shredding Service is for your firm. FileShred provides secure containers to be placed conveniently throughout your offices so your staff can deposit and store your documents until your scheduled shredding appointment. We offer set schedules such as weekly, bi-weekly, every four weeks, and monthly legal shredding or we offer flexible programs that allow your firm to call us only when the secure shredding containers are full it just has to be at least once per calendar quarter.
Three Simple Rules to Help Manage your Legal Files
Have an Information Policy in place – Having a written Information Policy in place will save you time. Establishing retention requirements for every type of document eliminates revisiting how long to keep legal files over and over again. With an information policy in place, you will know when it's okay to dispose of files and papers.  A record retention policy helps reduce the need for storage of unnecessary files in your office or offsite.
Know the minimum retention time – The length of time you must keep legal documents varies depending on what type of document it is.  Documents should be identified as immediate destruction such as drafts or copy machine errors, others are time-specific retention such as tax documents that need to be kept for seven years and others may be permanent such as wills and trusts.
Store and discard safely- Every case your firm handles has private information about your client.  That information must be securely stored and disposed of when allowable. In your office keep your client files in locked file rooms or locked file cabinets with limiting who has keys and access.  Offsite storage should be at a facility you control access to or hire a professional storage firm that has demonstrated it has the proper security policies and procedures in place. When it is time to dispose of legal records hire a professional firm like FileShred that maintains the chain of custody of the records from the time they are released to them until they are shredded.
When you hire FileShred all shredding of legal documents are performed onsite at your office. For further security, all of our shredding trucks are equipped with a camera system that allows you to watch your legal files be destroyed. We help law firms complying with legislative, regulatory, and internal policy requirements for the proper destruction of legal files so call FileShred – the best legal records shredding company – today, and we will answer all of your questions, give you a quote and schedule your services.