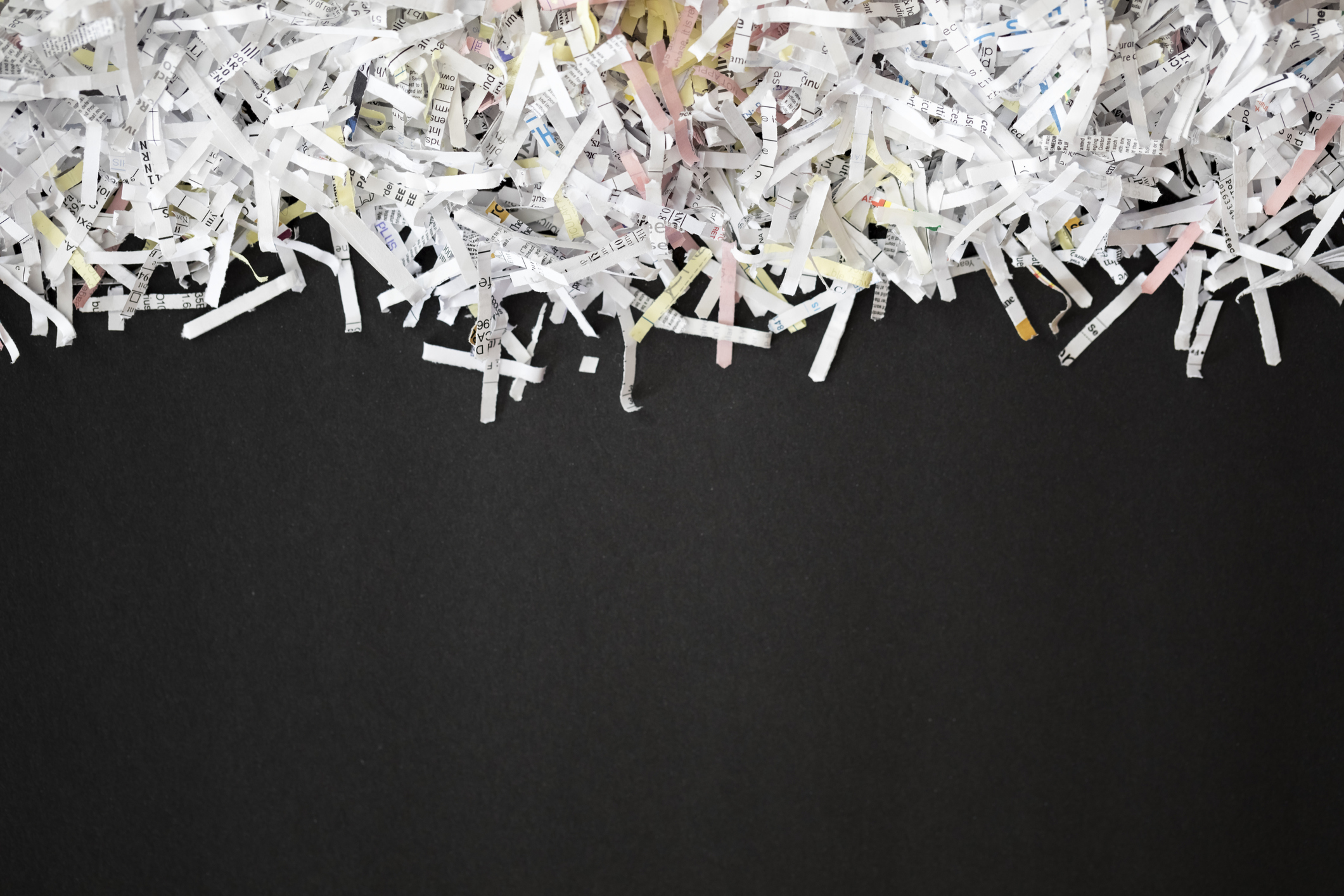 Shredding paper records is critical for individuals and companies of all sizes in all industries. It helps protect your personal information, your business, clients, and your employees from becoming victims of identity theft and fraud. It's also required by Privacy Laws.
Shred All Documents Being Disposed Of
More than half of all documents contain a piece of information that laws require be shredded before they are discarded. Don't waste your time or take the chance of missing something, shred all documents you are throwing away.
You Should Shred Paper Regularly
Most businesses receive and create documents that contain personal and sensitive data. Statistics tell us that 45% of every piece of paper printed in an office is disposed of the same day. Most businesses should establish a regular schedule of paper shredding. The reason is simple— you have to have a sure way to throw away documents in your office. By establishing a regular shredding program you will be reducing the possibility of a data breach. When you hire a professional shredding service like FileShred to implement an ongoing document destruction program they will place locked collection containers in your office. Then when papers are being discarded you place them in the locked receptacles instead of a wastebasket. On a consistent basis, your service provider will arrive at your office to empty the containers and shred the documents that were deposited.
Don't Let Documents Accumulate
As you look around your home or office do you see piles and stacks of paper on counters, desks, and tables? The document build-up is both a security risk and a legal liability. First, documents should never be left out in the open where anyone can look at them. They should always be secured in locked file cabinets, desk draws, or file rooms. Second, if papers are accumulating it's a good indication that you need to do a file purge and have them shredded. If this is happening to you give a professional shredding service like FileShred a call to come to your location and shred those files.
Sensitive Information is On More Documents than You Realize
Most people know you need to shred important documents like bills, invoices, signed receipts, and financial reports. In addition other sensitive papers like outdated contracts, legal documents, proposals, price sheets, business plans, HR records, payroll records, health information, and resumes all need to be shredded when they have outlived their usefulness. But, did you know that junk mail like credit cards and business loan invitations have enough information on them for thieves to use so they should also be shredded.  Remember the safest policy is to shred all documents being thrown away.
Make Document Unreadable 
Tearing up documents, cutting them with a scissor, or using a strip-cut shredder is not secure enough. There are programs that thieves can use to reconstruct documents so they can read them. Professional shredding services have industrial shredders that cut and tear the documents in many directions and turn them into tiny unreadable particles. Then the particles go through an auger that mixes them with other shredded paper so it makes it impossible to get any information off of them.
Privacy Laws Apply To Everyone
There is a State and Federal Privacy Law that applies to every individual and every business regardless of what industry you are in. All of those laws require the document being disposed of need to be destroyed in a manner that makes them unreadable and not able to be reconstructed. The best and easiest way to do that is to have them professionally shredded.
Do-it-Yourself Shredding- Never A Good Idea
Unfortunately, we often see clients who attempt to shred their sensitive documents with an in-office or personal shredder.
We never recommend Do-it-Yourself shredding, and there are several reasons why.
First, it takes an enormous amount of time. You need to prep the document by removing staples, paperclips, and binders of any kind. You will only be able to shred a few pages of documents at a time, you will waste a lot of your time or that of an employee that could be doing more productive tasks for your business.
Second, In-office or personal shredders are not safe. Small Shredders are designed for occasional use in the office or at our homes and should be turned off when not in use. They can overheat, spark, or worse if overused cause an accident.
Third, small shredders are constantly getting jammed. Anyone who has used a small shredder has experienced them getting jammed. It makes the DIY shredding process more frustrating and time-consuming.
Forth, handling the shredded paper is cumbersome. When documents are destroyed with an in-house shredder you are going to have to do something with the waste. You have to store it and then dispose of it. With a professional shredding service, they remove and recycle the paper that they shred.
Professional Shredding Services are Affordable
Whether you need a one-time file purge or ongoing document destruction, a professional paper shredding service is more affordable than you think. Give FileShred a call today to see how reasonable and convenient it is to have your confidential documents destroyed at your location.