Glastonbury Shredding Appointments Monday-Saturday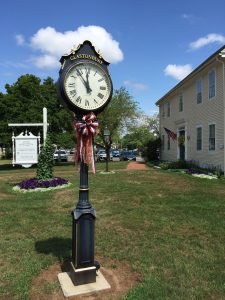 With FileShred you have the option to choose any date you want to have us come to your Glastonbury, CT location to destroy your files and papers. We offer next-day shredding Monday through Saturday because we understand that destroying your documents isn't the only thing you have on your schedule. With FileShred just pick the best day for you.
Here Is How Convenient On-site Shredding Works
The most convenient and secure way to shred your documents is if the service comes to you. FileShred does, we have a fleet of the most advanced paper shredding trucks that can destroy 6,000 pounds of files per hour. You can't do that with a personal or in-office shredder. Our truck arrives at your Glastonbury home or business and our service tech will show you his picture ID. He will then empty whatever your documents are in into one of our 96-gallon security bins that hold 300 pounds of paper. The bin is then locked and moved to the truck just outside. The truck's system will then raise the bin and empty your papers into the shredder and they will be destroyed. See the shredding as it happens on a monitor on the side of the truck.
Our Document Destruction Options & How You're Charged
One-time Business Shredding
If your company has to discard business records occasionally we offer our one-time option that allows you to securely dispose of corporate files only when you need to.  It could be an upcoming move or annual file purge that has a timetable that has to be adhered to or it could be a spur-of-the-moment decision to clean out an office full of documents that are just on your mind and you want to get it done.  Whatever the reason or whenever you want to get it done we are available to come to your business location and take care of it for you.
How You're Charged – The cost for our one-time service is a rate per bin.  We have a one-bin minimum and the more you have to shred the lower the cost per bin.
Scheduled Office Shredding Programs
If you look around your office and you see papers going into wastebaskets you need scheduled shredding.  Our ongoing service is an easy way for you to securely dispose of company records and be compliant with privacy laws.  We supply our locked security containers to be placed in central locations in your office.  Your employees will now discard all papers in locked containers so they will remain safe and secure until they are destroyed.   Then on a recurring schedule, we will come to unlock, remove, and destroy the papers from every security container.  You can have a weekly, biweekly, every four weeks, or monthly schedule.
How You're Charged – For our scheduled service, we also charge a rate per collection container when they are serviced. There is no cost to place the containers in your office for ongoing use. The rate is based on the type of containers we supply, the number of containers, and the frequency of service.
Residential Shredding in Glastonbury CT
If you are worried about your personal information getting into the wrong hands you have good reason to with the growth of identity theft.  We can help eliminate some of that concern with our onsite residential shredding service.  You should always destroy any personal records you want to throw away.  There is an easy way to do that.  We will come to your home with one of our powerful paper shredding trucks and destroy any of the private papers you have decided you don't need anymore.  We can come to your residence on any date that is good for you Monday through Saturday and destroy your files and you will be able to witness the whole process.
How You're Charged – You'll pay for each bin we shred with your documents.  We have a one-bin minimum.
Hard Drive Destruction Service
You would be amazed at how much information and computer activity is stored on a single hard drive.  If an unscrupulous individual was able to get that information there is no telling how many problems you could be in for.  To prevent that from happening FileShred can come to your Glastonbury CT location and physically destroy the hard drives so the data can never be retrieved again.
How You're Charged – Just pay a fee for each hard drive we destroy for you.  A minimum may apply.
Prepare For Your Document Destruction Service
Are you wondering how to get ready for an upcoming paper shredding appointment?  There's not much for you to do, except decide what documents, folders, and storage boxes of records you want destroyed.  You DON'T have to remove paperclips, staples, binder clips, or rubber bands. You DON'T have to remove documents from envelopes or file folders.  Our industrial mobile shredding machines will cut through them and all.
Shredding Service Near Me Glastonbury CT
If you are looking for a paper shredding service near me we have great news for you.  FileShred is located in Glastonbury and can come to your home or business location the securely shred your confidential files and documents.  It is by far the most convenient and secure way to eliminate old and unnecessary papers.  You can actually witness the entire process.
We Are AAA Certified
AAA Certified means we are one of the best and most secure shredding companies in the Glastonbury area. To receive the AAA Certification from NAID, The National Association of Information Destruction, we had to exceed very strict requirements. Our policies and procedures are audited and our staff must be background-checked and drug-tested. When you hire a AAA-certified company you can be comfortable with who is coming to destroy your documents.
Why Do You Need Document Shredding
FileShred's Glastonbury, CT customer base ranges from individual residents to businesses, non-profits, and other institutions. It's simple: everyone needs and stands to benefit from our secure shredding and document destruction services. Your personal information or that of your clients, patients, employees, or students in the wrong hands could be disastrous. We're the top mobile shredding service in the region, and we're capable of handling any size job from one file drawer to an entire building full of business records to be destroyed. Being legally compliant is also very critical. Federal and state privacy laws apply to everyone and require that when you dispose of documents that contain any personal or private information they must be destroyed in a manner that renders them unreadable, which means shredded.
We're The Best Choice For Shredding
We are a local CT family-owned business.
We care about the communities we serve.
Get a quote and appointment on your first call to our office.
We shred your documents at your location.
Let us do all the heavy lifting including carrying your documents up or downstairs.
Our trucks complete the job quickly, they can shred 6,000 pounds of paper per hour.
Our trustworthy staff is well trained, background checked and drug tested annually.
Our NAID AAA Certified means we exceed the highest standards in the industry.
Whether you need just a one-time service for that occasional shredding need or you need ongoing shredding with our scheduled paper shredding service just give us a call when you are ready, we are here to help.