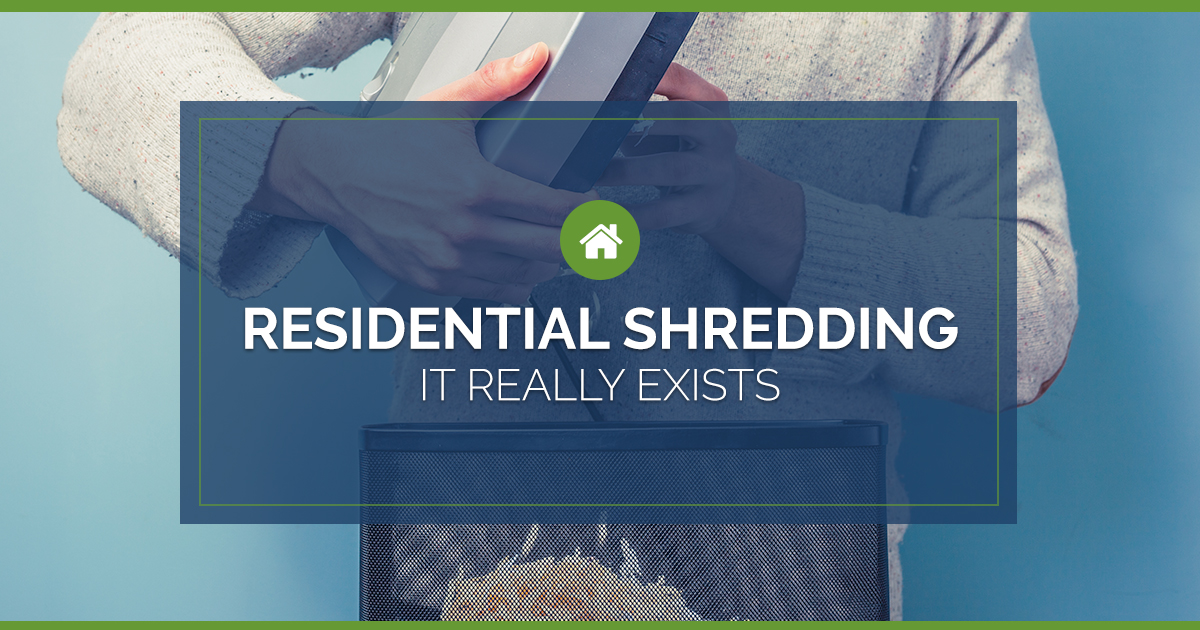 Residential Shredding: It Really Exists
At FileShred, we get asked, "Do you do residential shredding?" every day. People often sound surprised, and then they're happy to learn that we do in fact offer residential shredding and it's actually available to them.
Not All Shredding Companies Offer Home Shredding
For some reason, and we don't understand why, many document destruction companies don't offer or don't want to serve the residential market. Many say they just don't provide service to residential customers or they have such a high minimum charge that it's too expensive.
Call and Ask Questions
The right company should be happy to answer all your questions and explain how their service works. They should also be able to give you a quote over the phone. If you have any difficulty getting any of this information, then you should consider moving on to another shredding service. Here are some questions you should ask any company if you're considering having them come to your home to shred your personal papers and files.
Do you do residential shredding?
Do you shred the documents on-site?
Can I witness the destruction of my files?
Do you have any minimum charge?
Are there any additional fees like a fuel surcharge?
What size container do they use? They will use either a 95-gallon bin that holds 300 pounds of paper or a 65-gallon bin that holds 200 pounds of paper.
If my files are in a basement or on the second floor, will you carry them down and is there a fee for that?
What days do you do residential shredding? Monday through Saturday?
Can I choose the day I want my shredding service?
How many days notice do I have to give you?
What payment methods do you accept?
Information You Should Have Ready for the Shredding Service
To get an accurate quote, you should be ready to provide information to the shredding service about what you need to be destroyed.
If your papers are in boxes, then give them the size. There are two basic file boxes, the small file box that is 15″ long or the legal box that is 24" long. If you are using another type of box, then you should give them all three dimensions.
If your files are in garbage bags, tell them how many you have and the gallon size of the bag. Also, let them know how full they are. Most people will fill them halfway because they get heavy.
If your papers are in plastic tubs, then give your shredding service the dimensions.
If they are in file cabinets, tell them how many drawers they are in and the length of the drawer. Most are 24" or 36".
If your files are already pulled and stacked on a table or the floor, provide the linear inches of the files. The linear inches are measured from the floor to the top of the stack of files.
Remember that the more information you can provide, the more accurate your quote will be.
Special Circumstances
Don't be afraid to tell the shredding service about your special situation if you have one. If you are in from out of town and on a tight schedule, let them know. The more they know, the more they can help you.
FileShred is a local document shredding company that provides residential and business document destruction services in Connecticut and in the Springfield area of Massachusetts. We offer next day mobile service Monday through Saturday. For more information, contact us by giving us a call at 860-261-9595, 413-461-2330 or visit our website www.fileshred.net.