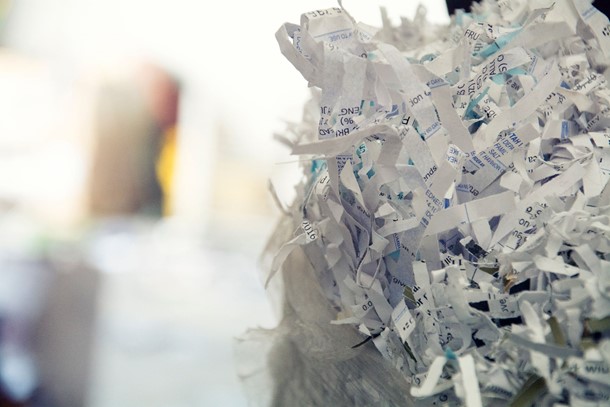 When your documents start piling up, it's time to call a professional shredding service, but which service is right for you or your business. There are two main times of shredding. Schedule shredding which is an ongoing service. Or One-time shredding or also known as purge shredding, which only happens once.
Every business is different and doesn't make the same document output, so some services are designed to be better for some companies than others. Going through what scheduled shredding and one-time shredding are will help you have a better understanding so you can know what service is the best for you.
Scheduled Shredding
If a company shreds a great deal of documents on a regular basis, then a scheduled shredding service is perfect for the job. All you need to do is get a good idea of the amount of documents you need shredding which the shredding company will help you with, so you know how often you would need this service.
Once you know how often you need it, the next part is easy. First, the shredding experts will stop by your business to place something called secure containers or consoles. These containers are so you can easily store the documents you want to be shredded securely and safely until your scheduled shredding service appointment. Then, as soon as that day arrives, the experts will be at your location right on time, ready to remove the secure containers and bring them directly to the truck where they are shredded or taken to an off-site facility to be destroyed securely.
One-Time Shredding
Whether your needs are business-related or residential, one-time shredding is perfect for anyone who needs to shred a pile of documents securely and does not need the commitment of a regular shredding service. Also, it's a great way to remove clutter and create more space at work or home.
All you need to do to get started is make your one-time shredding service appointment and collect all the documents you need shredded. Then, you can place them in anything that will hold them; sometimes, even shredding companies will provide you with secure containers to put your documents in until they are brought to the mobile shredding truck.
Benefits of Both Services
When you choose either service, you get certain advantages when you choose a professional shredding company.
Security – When it comes to documents with sensitive information on them, the best way to ensure that its data is one hundred percent safe is to shred it securely. When you use a shredding company, they have industrial shredding machines that make it impossible to put back the shredded bits together, making them unrecoverable.
Cost & Time – Doing the shredding yourself can cost more money than using a professional shredding service. When you use a personal shredder means that it comes with costs. Like the machine itself, maintenance costs, and even unexpected repairs.
Then there is the time you are spending, which could take you days, what a shredding company can do in minutes. By letting the shredding company handle the shredding, you could be using that valuable time on something else more important.
Environmentally Friendly – After all of the documents have been securely shredded, the paper bits can be taken to a recycling facility to be made into other paper products.
Now you know the difference between Scheduled Shredding and One-Time Shredding and the benefits that come with both services. So it's time to start shredding. Contact us today by phone or online.