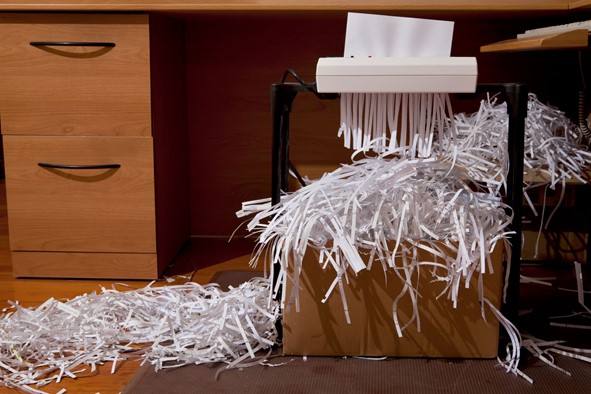 If you're wondering what paper shredding is all about, then you have come to the right place. This is a guide for either a business or homeowner who is new to using a paper shredding service from a professional company or wants more information about your paper shredding services.
First, let's go over why you should use a paper shredding service. Then we will touch on choosing the right company, what to shred, and finally, types of shredding services available. This guide to paper shredding services will help you make an informed decision about what you need to get rid of your unwanted paper documents. Let's get started.
Why You Should Shred
Most large companies and even small businesses are now using professional companies to come to their companies to shred all their unwanted documents. They do this because a lot if not all of those documents have either personal or confidential information. So if they have documents they no longer need, they need to destroy them so that sensitive data doesn't lead to theft and fraud. Also, shredding your documents with a company helps you be compliant with state and federal laws regarding privacy.
Find the Right Company
Once you have made an appointment with a shredder company, you will usually be given an estimate of a time to expect the job to be finished. Most companies nowadays use high-tech equipment that makes the process faster and easier than it was decades ago when people would throw their papers into a regular shredder and throw them out. It used to take forever to shred old mail, but now it can be done in minutes. However, make sure to let the paper shredding service know how many bags you need so they can calculate the price for you.
What To Shred
After you've learned about the different types of shredding and why you should shred, you have to decide what to shred. Any documents that contain employee, personal or client information should be shredded. We can't list every document that needs to be shredded, so we've listed a few examples of the types of documents you should shred.
Anything with social security numbers
Bank Statements
Employee pay stubs or records
Medical and dental records
Papers with a signature
Payroll Information
Tax forms
Transcripts
Choosing a Paper Shredding Service
There are different types of paper shredding services; this is because every company has different shredding needs. Some companies have a large number of documents that need to be shredded on a regular basis, and others only collect a large amount over a long period of time.
One-Time Shredding: A one-Time shredding service is for companies or even homeowners with a large amount of shredding they need to purge but don't need it regularly. All you have to do is collect what you want shredded and call your local shredding company to handle the rest.
Scheduled Shredding: A company that uses a scheduled shredding service needs to shred documents regularly. The company usually will provide you with secure containers that you can place around your office that allow you to collect your documents securely until your scheduled shredding appointment arrives.
Mobile-Shredding: Mobile shredding, also known as on-site shredding, means that all the shredding is done right at the location of your choosing. The shredding process is done in mobile shredding trucks that have commercial shredding machines inside and a camera for you to watch your documents being shredded.
Off-Site Shredding: This is the opposite of mobile shredding, where the documents are collected in secure containers and then brought to a secure facility where they will be shredded there.
If you need a paper shredding service, then FileShred is here to help. Call us today at (855) 547 4733, or use our online contact form for a quote.