Mobile shredding is the most secure way for residents and businesses to dispose of confidential documents in a compliant manner.  On-site document destruction companies have the procedures and advanced equipment to destroy paper records in a fast, compliant and cost-effective manner. Here are some reasons onsite shredding is your best alternative to securely dispose of documents with private information.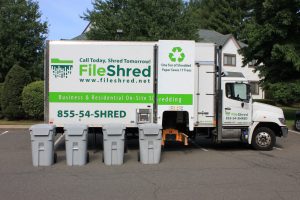 Mobile Shredding Is Convenient
On-site shredding is your most convenient option because an industrial shredder comes to your location to destroy your paper records. The right company like FileShred will do all the work for you even if it requires carrying your documents up or down stairs. What it means is you'll never have to lift, carry, or load your heavy boxes of files into a car to bring them to some off site location to have them shredded. Since our mobile shred trucks are available six days a week with just one phone call you can have one of our paper destruction trucks to your home or office as soon as tomorrow. Our onsite document destruction is convenient in two ways, you don't have to go anywhere and your can have it done on the date you want it done.
On-Site Document Destruction Is Just More Secure
Another benefit with using a mobile shredding service is the ability to witness the shredding of your documents. Seeing the actual destruction of your paper records at your location leaves no question that your private information is gone for good. There just isn't a more secure way to shred your documents than having it done by a mobile service.
Your Documents Become Unreadable Particles of Paper
Our on-site document destruction trucks are equipped with a cross cut pierce and tear shredding technology that utilizes multiple cutting blades that cut the paper in many directions and then pierce and tear the documents apart. This process turns the paper into very small unreadable particles. Then the particles go through an auger that mixes the destroyed pieces with other pieces for an additional level of security.
Economical for Any Size Shredding Job
Most drop-off shredding services charge per pound so once you reach 100 pounds of paper to shred it's more cost effective to have an onsite service come to your location. Three of the standard file storage boxes that are 15" long are almost 100 pounds so it is easy to reach that threshold. Our onsite shredding service charges a price per bin and since our bins hold 300 pounds of paper this option is a fraction of the cost per pound compared to a drop off service.
Contact us today to get a quote and make an appointment for your on-site shredding service.
Looking for Reliable Mobile Shredding in Albany, Utica, Binghamton or Syracuse areas? We Can Help.
Confidata's fleet of mobile shred trucks covers a wide range of territories including Albany, Utica, Binghamton, and Syracuse. Let us help keep you secure, compliant, and clutter-free with our economical mobile shredding services.