A Shredding Quote Today, Document Destruction Tomorrow
Just give us a call and we will explain our different types of document destruction services.  We will also be happy to answer all of your questions. During the same telephone call, we will give you a reliable quote with no extra fees or surcharges and you will also be able to schedule your appointment for the best date for you.
Frequently Asked Questions – For Quick Reference
When Can I Get My Document Shredded?
Any day you want Monday through Saturday.  We offer next-day service six days a week
Where Are My Documents Shredded?
At your Springfield Massachusetts location by one of our powerful paper destruction trucks. You'll be able to watch your documents being destroyed.
What Does On-site Shredding Cost?
We charge a rate per container we shred.  The cost per container is based on whether you choose a one-time or ongoing service, the type of container, and the amount of paper you need shredded.  We will give you pricing right over the phone.
Do I Have To Remove Staples, Paper Clips & Rubber Bands?
Nope, our industrial shredders will tear right through them.  They will also cut through sealed envelopes, entire folders, and three-ring binders up to one inch thick.
Why Choose FileShred Over Other Document Destruction Services?
Because when you call FileShred you get to speak with one of our knowledgeable E staff, get a quote, and set up your appointment for the date you want Monday through Saturday.  When we come to your Springfield location we do all the work even carrying your documents up or downstairs.
Get Your Documents Shredded The Day You Want!
FileShred takes the guessing out of when you can have your documents shredded in the Springfield MA area, you pick the day you want. We offer next-day document destruction services Monday through Saturday. That means you pick the date that is best for your schedule and it could be as soon as tomorrow.
On-site Paper Shredding Is More Secure- Here's How It Works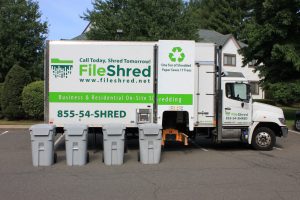 FileShred is a mobile shredding company that provides onsite paper destruction to residents and businesses of Springfield MA. We come to your Springfield location with one of our state-of-the-art trucks and all of your documents are destroyed right there for you to see. We will place your documents into our 96-gallon bins.  These bins hold 300 pounds of paper.  That is ten of the standard file boxes that are 15 inches long or 5 of the legal file boxes that are 24 inches long.  After your papers are inside the bin it will be locked and taken directly to our truck.  The bin will be lifted, emptied, and shredded by an automated system.  A screen on the side of the truck lets you watch the entire process. No other information protection option is more convenient and secure than having your confidential paper records destroyed at your home or business location for you to witness.
Getting Ready For Your Mobile Shredding Service
All you have to do is decide what documents you want to have shredded, we'll do everything else.  Don't waste your time removing paper clips, staples, rubber bands, or any other paper fasteners because our commercial shredders will cut right through them.  Manila folders, closed envelopes, and expandable files can also be shredded. We will empty any size carton, trash bag, or any containers you have your papers in into our bins so they can be shredded.  We can empty the whole file draws into our bins.  We can shred 3-ring binders up to one inch thick.  If you have binders that are thicker we will open and empty them into our bins.  No elevator access to your documents we are happy to carry them for you up or downstairs, just let us know.  With FileShred we want to make the shredding process easy by doing all the work for you.
Our Paper Shredding Services & How We Charge
One-time Document Destruction & File Purges for Businesses
To hire our professional onsite service you don't have to have a lot of business records to destroy or have a frequent shredding need. FileShred will come to your office if you only need us just one time. Our purge service is for companies that call us only when they need us. We are happy to service your one-time paper shredding need and we look forward to you calling us again whenever you need more corporate files destroyed in the future.
How We Charge – You will pay for each bin we place your papers in and then shred them.  That cost per bin is determined by how much you have to shred.  Higher volumes of documents that need to be shredded will be charged at a lower rate per bin.  We do have a one-bin minimum.
Ongoing Office Shredding Programs
When you stop and think about how many times over the course of the day you or your employees throw documents in a trash can you might be surprised. Putting documents in the regular trash without shredding them exposes your business, your clients, and your employees to the risk of identity theft and possible fines for violating federal and state privacy laws. There is an easy way to protect your private information and be compliant with all laws, set up a scheduled document shredding service with FileShred. It's easy, we provide you with secure containers to be placed in central locations in your office so it is convenient to deposit documents every day. Then we work with you to determine what schedule works best for your firm when we will come to your office and empty and destroy the contents of each container.  A consistent schedule is more effective such as a weekly bi-weekly, every four weeks, or monthly.
How We Charge –  First, we never charge a rental fee for the secure containers we provide.  You will only incur charges when we come to service the containers.  You will pay for each container when serviced.  That rate is determined by the type and number of containers you have at your location.  We do require that each container we supply be serviced once per calendar quarter.
Residential Shredding in Springfield MA
Don't let your personal files wind up in the wrong hands.  Make sure that anytime you decide to dispose of documents at home you have them shredded so your private information can not be retrieved.  Our residential document destruction service will come right to your home and destroy all your files there so you can witness the entire process.  Our at-home service is available Monday through Saturday so it will be easy for you to set an appointment that works for you.  Our onsite residential service is the most secure and convenient way for you to eliminate those old tax returns, medical records, and general household files you don't need to hold on to anymore.
How We Charge –  You will pay for each 96-gallon bin we place your papers in and shred.  We do have a one-bin minimum.
Home Office Shredding
More people are working from home than ever before.  Whether you are working at a business location or from home you are still dealing with paper records.  When any document is no longer needed it should be shredded as a good business practice and to meet the legal requirements of privacy regulations.  Our document destruction services for home-based businesses will come to your home office and destroy the business-related papers you have decided to dispose of.  You can make an appointment for a one-time service six days a week or we can provide one of our security containers and we can set up an ongoing schedule for you.
How We Charge – If you need a one-time service you will pay by the bin.  If you need an ongoing service you will be charged per security container.  The same minimums apply as the services above.
We Are A NAID AAA Certified Document Destruction Company
Our NAID AAA Certification verifies when you choose FileShred for your paper shredding needs it is completed in compliance with all known federal and state data protection laws.  We maintain our certification through scheduled and surprise audits by trained, accredited independent security professionals.  Using a NAID Certified Shredding Company fulfills your regulatory due diligence obligations.  Not all document destruction firms are NAID Certified.
What You Should Shred
It is a one-word answer, EVERYTHING! One-half of the business records you create or receive in business contain information on them that privacy laws require they be destroyed in a manner that makes the information not retrievable before they are disposed of. Don't waste your time or the time of your employees by going through documents to determine if they should be shredded. What happens if a mistake is made, it's just not worth taking a chance. The best option is to shred everything that way there is no question that you are compliant with the privacy laws that apply to your company.
Shredding Documents is a Legal Requirement
Document shredding is not only important for security reasons, but it's also the law. There are Federal and Massachusetts Privacy laws that mandate that you safeguard all private information. To remain compliant with these particular laws, you must shred all confidential and outdated information being disposed of.  It is crucial to protect yourself or your business by securely shredding any document that no longer needs to be retained.
Standards for Disposal of Information in Massachusetts
Any business or organization that maintains the personal information of people in Massachusetts must comply with specific standards for the disposal of that information.
Follow these standards to make sure you are following Massachusetts law:
Paper documents must be redacted, burned, pulverized, or shredded so that personal data cannot be read or reconstructed.
Electronic media and other non-paper media must be destroyed or erased so that personal information cannot be read or reconstructed.
Your business or organization may be fined for violating these standards when disposing of personal information.
The Other Benefit of Shredding
In addition to protecting private and personal information, document destruction also helps to protect the environment. All of the documents we destroy are recycled. The recycled paper is used to make other paper products. Recycling one ton of shredded paper saves 17 trees.
Shredding Service Near Me Springfield MA
People are eager to keep their dollars in their community by shopping locally.  You can also do that with document shredding.  FileShred is a local document destruction company that is also family-owned.  We have been servicing the paper shredding needs of the residents and businesses of Springfield Massachussets since our company was founded.
Why So Many Choose FileShred
We are a local family-owned company.
Get your quote and appointment with one call.
You get to choose the day for your appointment Monday – Saturday.
You know when your papers are destroyed because we shred at your location.
It doesn't take long to shred your files our trucks destroy 6,000 pounds of paper per hour.
Only the best work for us and they are background-checked and drug-screened.
We exceed the highest standards in the industry and our NAID AAA Certification proves it.
Have a Question About Shredding Your Documents in MA? Talk To an Expert!
When you have questions about a specific topic it's always better to speak to an expert.  When it comes to professionally shredding confidential papers in Massachusetts the expert is FileShred.  Individuals and organizations across all industries trust our years of experience to help them with their document destruction decisions.  If you have a one-time need to purge old files or you're looking to implement an ongoing shredding program let the experts at FileShred advise you.  We are the authority on document destruction in Springfield MA so give us a call.
Give FileShred a call today at 413-461-2330 and have your documents shredded tomorrow.