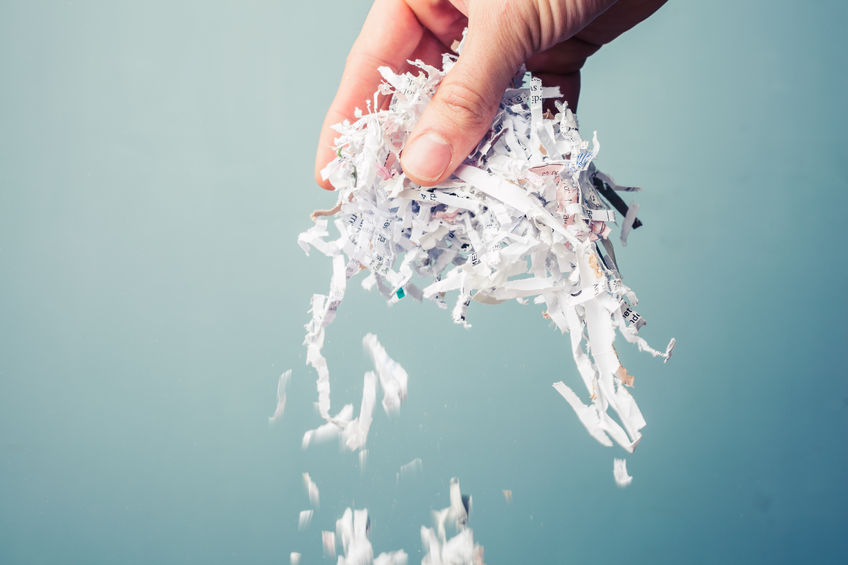 How Does Shredding Work?
What Does Paper Shredding Cost?
When Can I Get My Document Shredded?
The answer to these questions depends on which document destruction company you call.  When you call FileShred all of these questions are answered the first time you speak to one of our experienced staff members.  We pride ourselves on providing the document destruction service our customers need where and when they need it.
How Does Shredding Work?
FileShred is a mobile shredding service.  That means we go to our client's locations to destroy their confidential papers.  We have a fleet of trucks that have been outfitted with industrial shredders that can shred 6,000 pounds of paper per hour.  Because these shredders are so powerful you don't have to remove staples, paper clips, or rubber bands, our shredders will cut right through them.
For A One-time or Residential Shredding Service
When we arrive on the date you requested, we place your documents in one of our 96-gallon bins.  These bins are large plastic containers on wheels with a locking top.  We will empty your boxes, garbage bags, or any container you have papers in into our bin.  When the bin has been filled with your documents it will be locked and rolled to our paper destruction truck.  At the truck, the bin is grabbed by a bin tipper that raises it and empties it into the shredder.  Your documents are then shredded.  All of our trucks are equipped with a viewing station that will allow you to see the cutting blades in action as they destroy your papers.
For Ongoing Scheduled Shredding Service
When your office needs to destroy business records on a regular basis we have our scheduled service.  We place collection containers in your office.  Then just deposit all papers you are throwing away in one of these containers.  Then on an agreed schedule, we will come to your office to empty each container and shred the documents.  The containers are emptied and then the process in similar to the one-time service.
What Does Paper Shredding Cost?
There are a number of ways that shredding companies charge for their services, but FileShred keeps it simple.
The Cost of Our One-time & Residential Shredding Service
We charge for each 96-gallon bin that we shred.  The actual cost will be based on how many bins it will require to destroy your papers.  The more you have to shred the lower the cost per bin.  We have a one-bin minimum.  The only additional cost is applicable sales tax.  We DON'T charge a fuel surcharge or any other additional fees that other companies surprise clients with.
The Cost of Our Ongoing Scheduled Shredding Service
You will be charged for each collection container we service.  The price for each container will be predicated on the type of container, how many you have, and the frequency of service.  The containers stay in your office for ongoing use.  There is no rental fee just a cost when using the containers.  When we supply the collection containers we require they get services at least once per calendar quarter.
When Can I Get My Documents Shredded?
This is one of the big differences when you call FileShred.  We offer next-day document shredding services Monday through Saturday.
One-time or Residential Shredding
Just call us anytime you need to shred documents at your home or any business location you want files destroyed and tell us what day you want us there and we will be there on that day.
We will work with you to determine what schedule is best for your company.  We can be there daily, weekly, bi-weekly, monthly, bi-monthly, or quarterly.  You can also have on-call which allows you to call us only when your collection container is full.  The only requirement we have is to service each container you have at your office once per calendar quarter.
If you need more information or if you want to make a document shredding appointment, just give FileShred a call.
By James Dowse
CEO of FileShred