Well, we are faced with some interesting times right now, aren't we?
With COVID-19 spreading globally, many of us are being sent home for work. Other places are being shut down completely to help reduce the spread of the virus. We're happy to announce that FileShred is still open for business during this pandemic, and we are taking steps to keep our services running in a safe manner in accordance with social distancing concepts.
With many throughout Connecticut being asked to work from home, there arises the issue of staying on top of your information security compliances. What was once a routine practice in the workplace is now being moved into the realm of home responsibilities. For those who normally work from home, this is business as usual. For the others? It will be a brand new world where you might not know how to handle it.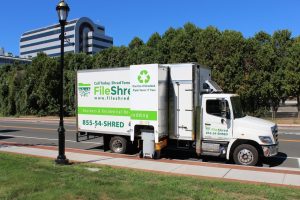 The good news is, since we remain up and running, that we have the perfect option to help you through.
Utilize Residential Shredding
With many sheltering at home, what is now required is a service that will come to you. Fortunately, a mainstay for FileShred's services is our residential shredding option. As the name implies, this service comes right to your home and will keep you on top of your secure shredding requirements.
Since you may be working from home, you will be producing sensitive information there instead of at the workplace. The type and quantity will vary depending on your business, but common examples may include price lists, financial details, personnel information, customer details, etc. All of these are items that need to be shredded, as they are all of interest to those in the occupation of information and identity theft.
We must remember that regardless of the fact that there is a bad virus going around, those who seek to take advantage of others will continue to do so. Compliance laws are also still in full effect, which means that private information must be handled properly. Enter the residential shredding service, which can handle all of this for you.
Changes Due To Social Distancing
Understandably, there are some changes required to this service while the virus is a concern. For starters, we are taking steps to limit the exposure of our staff with our client base to avoid infecting each other with the virus. To that end, we are requesting that our clients take the following steps when getting shredding services at home:
Gather all materials to be shred near the front entrance, inside of your home, so the driver can quickly collect them
Limit person-to-person contact as much as possible – stay back to the recommended distances of 10 or more feet between you and another individual
Feel free to watch as material is shred at the curb side from a safe distance, from your window if you are feeling sick in any way, or from the recommended distances at the curb side
With these changes, we are confident we can still deliver on the information safety you require, while maintaining the necessary precautions against the virus spreading. Reach out to us if you have any document shredding concerns, or if you're ready to set up a time for the truck to come visit.
We hope everyone is being smart and staying safe during these times. Let's look out for each other and get through it in one piece.