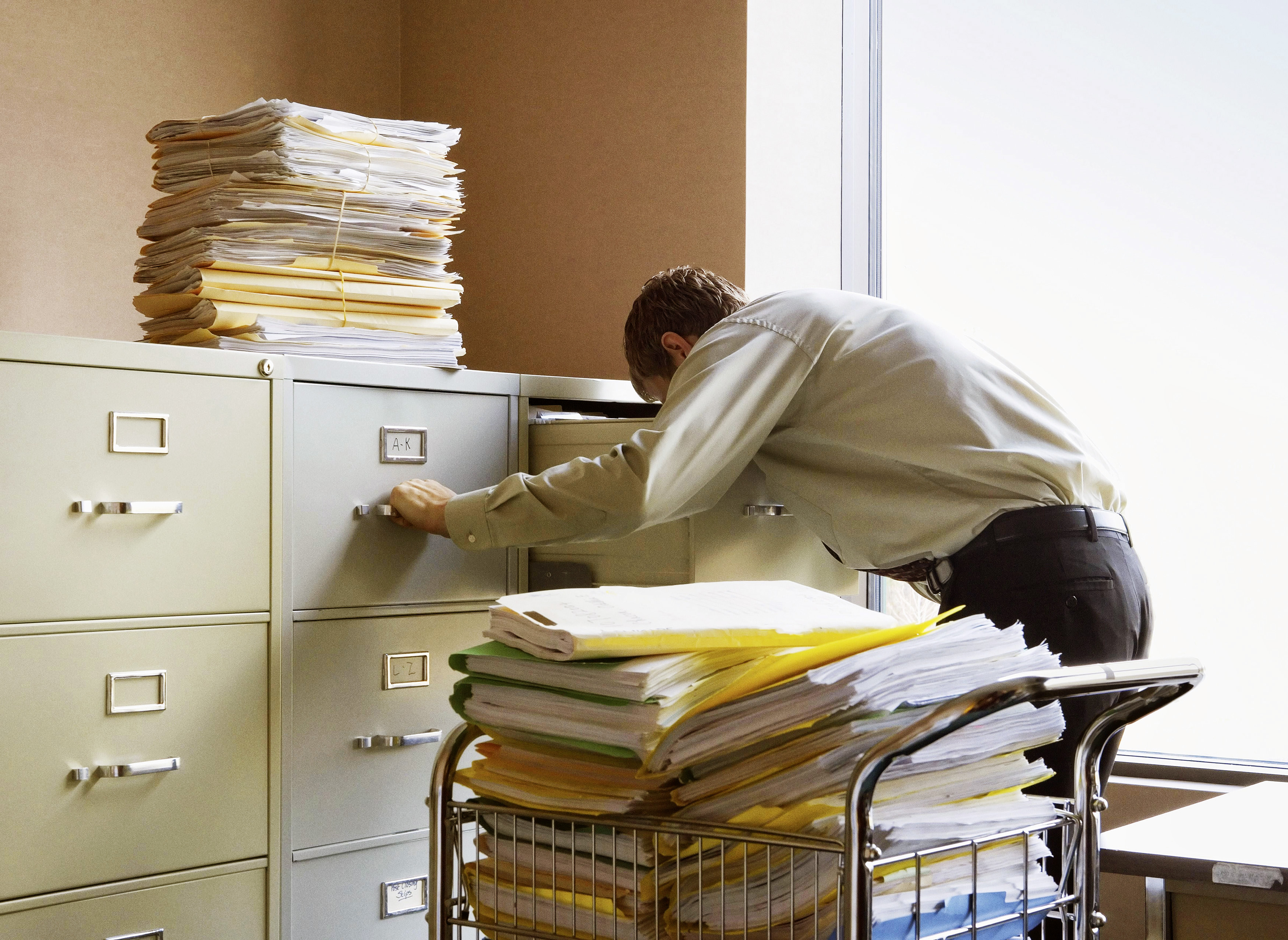 In Connecticut, call FileShred today to make shredding automatic in your office.
Scheduled shredding is an ongoing document destruction program in your office.  Simplify put, a professional information destruction company comes to your business location on a regular basis to destroy company records that are no longer needed and papers that would mistakenly be thrown away in wastebaskets every day.
Here's How Ongoing Shredding Works in Connecticut
The professional document destruction company will provide you with collection containers to discard documents in.  These bins and consoles come in a number of sizes so there is one that will work in every office.  The type and number of containers will be based on the size of your office and the number of staff that you have working at that location.  The bins and consoles will be placed in locations throughout your office so every employee will have easy access to one.  Then whenever a document or file needs to be discarded just deposit them in one of the locked collection containers.  On a regular schedule, a company like FileShred will arrive at your firm to empty each container and destroy the contents.
How To Determine How Frequently You Need Paper Shredding
With an ongoing shredding service, you can have a set schedule that can be as often as weekly or as infrequent as once per calendar quarter or any interval in between so how do you decide?  The most popular choice for companies is monthly.  It would be best to start with a monthly schedule and if you are working with a great company like FileShred you will be able to adjust your service frequency until you find the right ongoing schedule that works for your firm.  Some organizations have an unpredictable volume of paper usage.  For those companies, you can still have a scheduled service that is on-call.  This way you can call to have the locked collection containers emptied and the papers shredded when they are near capacity.  With this option, you do not want your papers sitting in the bins or consoles for an undetermined period of time so at FileShred we require servicing each container at least once per calendar quarter.
How To Choose The Right Collection Containers
All of the locking collection containers have a mail slot type opening to deposit documents.  There are a number of containers to choose from.  You can use the same containers or any combination.  The bins are large plastic garbage cans on wheels with a security top.  The 95-gallon bin holds 300 pounds of paper.  The 65-gallon bin holds 200 pounds of paper.  If you do not want to have one of these containers in your office, you can choose a console.  It looks like a piece of furniture and will blend in with any office environment.  A console will hold 80 to 100 pounds of paper.  If your paper usage is greater but you still don't want a bin, then just use more consoles.  If you have limited space, you can use a Shredinator which is a thin plastic container that holds 70 pounds of paper. You can click on this link to see photographs of the containers and their measurements.
How To Use Your Collection Containers
The most important thing to do is to make sure that your employees know that a company policy is to discard all documents and papers in the locked containers to be compliant with privacy laws.  Let them know that a professional company has been hired to come on a regular basis to destroy the documents.  Then have each member of your staff look at each type of container in your office to be familiar with the opening to deposit papers.  Make sure that they know that wastebaskets or recycle containers should no longer be used to throw away and documents.
Why Implement A Scheduled Shredding Program
Besides protecting the private information of your clients, employee's and company, there are many federal and state privacy laws that require the secure disposal of documents with private and personal information on them. Fines and penalties could be devastating to your company so play it safe and implement a scheduled shredding program in your office and shred all the documents that are being disposed of.
Get a Quote for Ongoing Service Now
Start the process by filling out our online form and we will contact you right away or give us a call at (860) 261-9595.