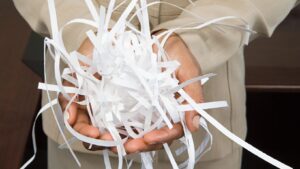 A good document shredding service should provide secure and reliable destruction of sensitive information, while also being convenient and cost-effective for the client. Here are some factors to consider when selecting a document shredding service:
Security: The most important factor is the security of the shredding process. The service should use shredding techniques that ensure that confidential information is irreversibly destroyed.  For on-site shredding, the service takes your documents from wherever they are and processes them for you at your Connecticut home or business location. If it is an offsite service, the service should also provide secure transportation and storage of documents before shredding.

 Compliance: The service should comply with all relevant regulations and standards for document destruction, such as HIPAA, FACTA, and GLBA.  They should attest to you that the services they provide are compliant with all privacy regulations.

Convenience: The service should be convenient and easy to use. This includes flexible scheduling options that shred for you when you want it done for either mobile shredding or offsite document destruction.

Customer service: The company should provide excellent customer service from your first call to the completion of the shredding of your documents. Their customer service staff should be responsive and eager to explain their shredding options, explain how the shredding process works, answer all your questions, provide you with a complete quote, and set up your service date on the same call.

Their Service Staff: The staff that arrives should be neat, clean, polite, wearing a company uniform and wearing a company-issued picture ID so you can be more comfortable with who you are turning your confidential papers over to.

The Shredding Truck:  Their truck should be clean with bold identifiers on the truck showing at a minimum the name, address, and phone number of the company.

Witness:  The company should give you the option to go to the truck with your documents and witness them being shredded with the truck's onboard camera system.  With these systems, there is usually a monitor screen on the side of the truck to conveniently watch the cutting blades do their job.

Certifications: The service should have relevant certifications and accreditations, such as the NAID AAA Certification, which ensures that the service has met strict security and operational standards.  Using a NAID AAA Certified company also satisfies the due diligence requirements in all Federal and State privacy laws.

Price: The service should offer competitive pricing, which provides all costs in advance so there are no surprises after the service is complete.  Ask if they have any additional fees or surcharges.  With a reputable company, you should not have to ask.

Payment:  They should offer you a number of ways to pay for your service including accepting all major credit cards.  If you are going to be an ongoing customer, they should offer you the option to be billed for the service and if you prefer to keep a credit card on file.

Environmentally Friendly: The service should prioritize environmentally friendly practices, such as recycling all the shredded paper.

FileShred is one of those GREAT companies that provides a superior on-site document destruction service from start to finish.   Call us today.
By 
James Dowse CSDS
FileShred LLC
(860) 261-9595