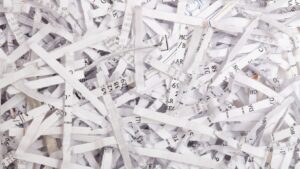 Document shredding services refer to companies that provide secure and reliable document destruction services to individuals, businesses, and organizations in the state of Connecticut. These services are typically used to securely dispose of sensitive or confidential information that is no longer needed or required by law to be retained.
When looking for CT document shredding company, like FileShred, it is important to choose a reputable and reliable company that uses secure and compliant methods for document destruction.  The easiest way to determine that is to use a NAID AAA Certified company.  That means they exceed the strictest requirements for security and professionalism in the information destruction industry.  Using a NAID AAA Certified company means you are compliant with the requirements in privacy laws that you vet any firm you are going to be hiring to destroy your paper records.
Many shredding services offer on-site or off-site shredding, where the documents are shredded on location or at a secure facility.  Most clients are more comfortable having their confidential papers shredded on-site so they can witness it being done.
More Than Shredding Paper
In addition, some shredding services may offer additional services such as hard drive destruction or electronic media destruction to ensure that all sensitive information is properly destroyed.  With the continued advancements in storage capacities on electronic media, it is more important than ever to have that media destroyed so the data is no longer accessible.
Know What Type of Shredding Service You Need
Scheduled or Ongoing Shredding Services
Scheduled document shredding services refer to a service offered by companies that specialize in the secure destruction of sensitive documents. These companies provide regular and ongoing shredding services to businesses and individuals who generate confidential information consistently that needs to be disposed of securely.
The process typically involves the company providing secure containers such as locked bins or consoles to be placed in the client's office or facility. The containers are designed to be tamper-proof and only accessible to authorized personnel. The client then deposits confidential documents into the container as needed.
At regular intervals, such as weekly or monthly, the shredding company collects the documents from the containers and securely shreds them. The documents are shredded using specialized equipment that renders them completely unreadable and irrecoverable.
After the shredding process is complete, the company issues a certificate of destruction to the client as proof that the documents have been securely destroyed in accordance with relevant regulations.
One-time or Purge Document Destruction
A one-time document destruction service is a service that securely destroys confidential or sensitive documents on a one-time or as-needed basis. This service is typically used by businesses or individuals who have a large amount of sensitive information to dispose of, such as financial documents, medical records, legal files, or other personal information.  The document destruction process involves the use of specialized equipment, known as a shredder, to destroy documents beyond recovery. 
One of the advantages of using a one-time document destruction service is that it eliminates the need for businesses or individuals to invest in their own document destruction equipment that when used is very time-consuming.  It also provides a high level of security and confidentiality, as the service provider is trained in the proper handling and disposal of sensitive information.
What To Consider When Choosing  A Shredding Service 
When choosing a one-time document destruction service, it's important to select a reputable provider that is certified and compliant with industry standards and regulations, such as the National Association for Information Destruction (NAID) or the Health Insurance Portability and Accountability Act (HIPAA). Additionally, you should verify that the provider has appropriate liability insurance coverage to protect against any potential breaches of security or confidentiality.
By James Dowse CSDS
FileShred LLC
(860) 261-9595