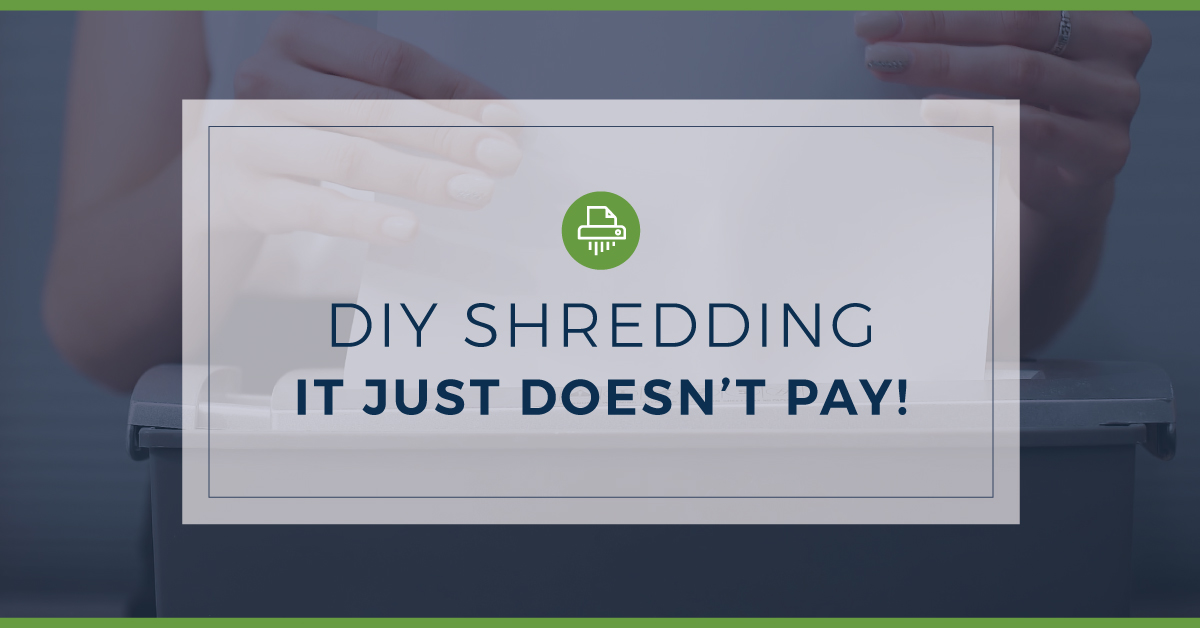 DIY Shredding Just Doesn't Pay!
DIY is very in right now but, when it comes to document shredding, there are many reasons using a professional document destruction company is your best alternative.
Are you having employees sit in front of a shredder for hours feeding a few sheets of paper at a time?  Do you have to remove staples and paper clips because the in-office shredder just can't cut through them?  Do you have to open envelopes of separate files so the shredder does not get jammed? Although many think DIY document destruction is cheaper, you're going to realize it just isn't.  With all of these limitations, you or an employee could spend several hours a month shredding business records. Fortunately, there are easier and more secure, solutions for destroying your paper files.
Keep Shredding on Track
Adhere to Your Retention ScheduleWhen documents have reached the end of their retention period, shred them! Holding on to business records longer than necessary exposes your company to data breaches. If you don't have a retention schedule, you need to create one.  Consult with your accountant and attorney to make sure your retention and disposition schedule adheres to federal and state requirements for record keeping.
Shred RegularlyDetermine how often you should be destroying documents.  Companies have two types of shredding needs or maybe even a combination of both.  Occasional shredding or ongoing document destruction affords firms options to securely dispose of files when they need to. A recurring shredding service eliminates the hassle and inefficiency of using an office shredder.

Locked collection containers are provided and placed in a convenient location throughout your office so all of your staff will have access to them. This way, your employees will be able to securely dispose of confidential documents anytime they need to. The contents of the security containers are then collected on a regular schedule such as weekly, bi-weekly or monthly and then shredded. If your office does not need to shred files on an ongoing schedule, then a one-time or purge service will allow you to call for document destruction only when you need it.  You'll never have to use small, inefficient office shredders again you and your staff will have more time to perform more productive tasks for your business.

Be CompliantEvery business has data that needs to be protected even when it is time for disposal which requires shredding. The requirement for secure disposal is mandated by privacy laws that apply to all companies. All firms need to have an information disposal policy, so they're in compliance with applicable laws and regulations that govern information protection. After your documents are shredded, make sure you receive a Certificate of Destruction that proves your compliance with information destruction laws.
Choosing a Shredding Company
Privacy laws require that you do your due diligence before you hire a document destruction company.   The only nationally recognized organization that certifies shredding companies is NAID: the National Association of Information Destruction. The easiest way to do that is to only hire a company certified as AAA by NAID. If your vendor is NAID AAA Certified, you'll know that the company that will be destroying your business records exceeds the highest standards for security and professionalism in the industry.
FileShred is a locally owned document shredding service that will help you implement the best document destruction program for your company in Connecticut and the Springfield area of Massachusetts.  Give us a call in CT at 860-261-9595 in MA 413-461-2330 or visit our website at www.fileshred.net.